Churches Buildings are closed except for private prayer :
this page will be updated on 30th Nov
CORONAVIRUS NEWS: Church Buildings are closed except for private prayer
Open as shown below:
Broomfield, Cheddon & West Monkton: Every day during daylight hours
Kingston: Wednesdays 9am – 4pm and Sundays 9am – 4pm
We continue with our "Zoom service" at 10.30am weekly. E-mail for details
(When we are able to re-open for services:
See the video (click here) or read the information sheet (click here) of what to expect when you return to your church building.)
Unless you are exempt a Face Mask MUST be worn in church
Virtual services
Our own church Zoom service on Sundays – email us for details
Youtube weekly video reflection – see link below
Compline Service for Ordinary Time from Rev Tracey for daily use – see link below
The Church of England has daily morning and Evening Worship including Common Worship and BCP https://daily.commonworship.com/ – (you can find readings, prayers in traditional and more modern forms for daily use.)
Broomfield Church Tower Works Appeal Update Nov 2020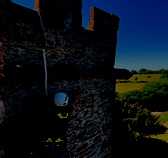 Some of you might have spotted two guys dangling from ropes against the church tower and wondered what is happening. They aren't perfecting their abseiling or rock climbing skills, but they are repairing the upper sections of the tower walls!
This is the first phase of a wider project which is likely to cost around £50,000. The church appreciates the loan from our sister church at Kingston St. Mary which has enabled work to start, but we need YOUR HELP, PLEASE to continue this urgent and vital work to continue.
Grants are being applied for to mend medieval windows and old gutters, attend to loose roof slates and masonry, and replace sections of rotten floors amongst other things. Perhaps you enjoy regular or occasional worship in this lovely old church, or maybe it is a resting place on your walks? if you were married or baptized here or have a loved one buried in the ancient churchyard, then you might like to donate towards the first £10,000 needed to continue with phase two? Thank you.